27/10/10
Mirakle Couriers celebrates Deaf Day
On Saturday the 2nd of October Mirakle Couriers celebrated the end of International Deaf Awareness week (last week of september) by inviting friends and family to spend a day focused on Mirakle and what it does for the deaf. The event was held in HR College, who were extremely kind to give us space to use for the day.
We started the day with a presentation that traced the journey of Mirakle Couriers from its humble beginnings to what it is today. With a lot of pictures, Dhruv told the story to the parents as Vidya translated in Sign.
the gist was this:
From: 2 boys, Just Dhruv, a small office room, no computers and  10 shipments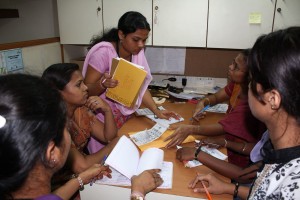 To: 60 deaf staff members, a management team of 5, two branches and over 50,000 deliveries per month.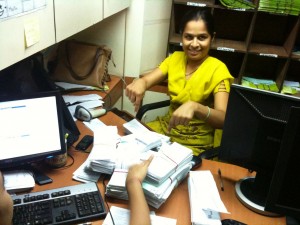 There has been a lot of hardwork but we've also had a lot of fun weekend outings and training sessions. We have grown organically into a close family, that is what gives us strength to grow into the future. It has been a wild ride, but this is merely the beginning. The presentation was a great crowd pleaser and gave everyone great hope and inspiration for the future.
After the presentation our staff had prepared some acting skits on their own for our guests to enjoy. Some were little creative one act stories, some were jokes and dances.
But the main show was a 4 act play highlighting how Mirakle has improved the lives of the deaf.
The first scene was about a deaf man working as a cleaner in a hearing office. Hearing people were shown as constantly jabbering on their mobile phones.  I can imagine this is what deaf people see all the time. As the story went on, the deaf man had made a mistake. The hearing bosses got extremely angry. The deaf man tried his best to explain himself in sign language and apologise but he could not be understood. Quickly the misunderstanding escalated to a point where he was fired.
The next scene was a monologue in Sign Language where he told the audience how tough it has been him to find a job. As soon as he finds one, he looses one in the same way we just saw. They don't understand him and they don't even want to try.
The next scene is on a train. One day on the train he meets two guys in Mirakle Couriers uniforms. There are two other deaf guys in the cabin who make a lot of fun of the Mirakle guys, laughing at them.  As the scene moves on the Mirakle guys discuss how much they get paid, that everyone in the office is deaf, the managers all speak sign and treat them well, they are given a bonus, bank accounts and Provident Funds. By the end of the scene they convince the others to come to the office and check it out.
The last scene is a very funny reproduction of an average day at  Mirakle Couriers. Kamlesh does a great job playing Dhruv, who is constantly on the phone and laptop to get business from clients. Nimesh is also portrayed by our very funny Mohan, running around frantically dealing with phone calls from Vodafone for detailed data reports. Needless to say it was a very amusing rendition of our typical work day at Mirakle Churchgate.
The guys from the train arrive at the office and are told the rules and given a job.  They are told that if they stick with Mirakle they will have a great future, they will earn well, get married and educate their children.
The play finished with all of the boys acting in the play going up on stage one by one telling the audience what working at mirakle couriers has taught them. This was the icing on the cake. In that moment we, the staff and the families truly recognised and felt the Mirakle that was really going on here. It was a cathartic experience.
After lunch we took things to a more serious level. Dhruv and Vidya explained to the families what was going on in terms of finances and lessons to be learned. Parents were given the opportunity to rasie any questions they had to the Dhruv and the team. Due to the sensative nature of the population we employ, we find it extremely important to maintain a strong relationship with the parents and families of our employees. They should know how their kids are doing and be extremely proud of them. Some parents still hesitate to let their kids out of their tight grasp because they are "different". It is part of the empowerment process, to encourage the parents to support and not hold their kids back as their confidence and independence develops. Many of them get it but there are still a lot of them who don't. Social Change is a lengthy process.
Mirakle Deaf Day 2010 was a great success. A true showcasing of what we are about and how our family has grown over the years. We look forward to making this a big event over the next few years.
Check out some of the video footage of below, surprisingly they are quite good actors.
we hope we can invite lots of other people for Deaf Day next year and make it a grand event. Please share these videos with all of your friends.