23/01/12
Haldi and Kumkum: Reintroducing the Churchgate Women
Those of you who have faithfully followed this blog over the past couple of years, erratic though it's been, have probably read something of the women of Mirakle Couriers, our magicians behind the scenes. For all the others, here's an introduction.
The girls who run our office in Churchgate are a variety of things: bright, cheerful, deaf, communicative, efficient, affectionate, soulful, mothers, wives, breadwinners, girls, pranksters, and generally just tough cookies.
Last week, they celebrated one of these roles (while performing the rest anyway) through the Haldi Kumkum ceremony. They came all dressed up and equipped, and began setting up the moment the boys set off on their day's deliveries: the haldi (turmeric), the kumkum (vermilion), flowers, til laddus, bananas were all laid out on a plate, and little portions of each boxed up for the married male staff to take home for their wives.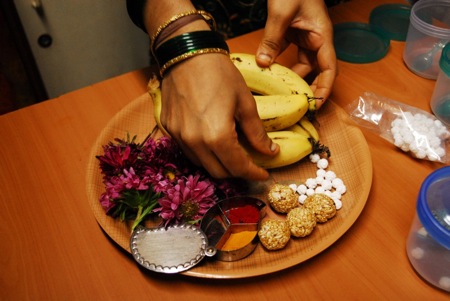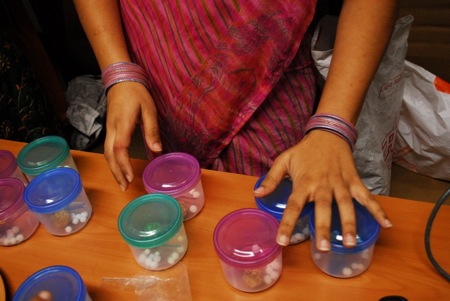 They put haldi kumkum tikkas on each other and, with no small amount of gigging, handed over flowers, laddus and bananas as a blessing. (Sujatha, as you can see below, is none too amused by this photo-taking business.)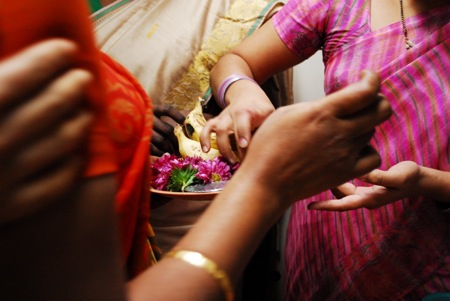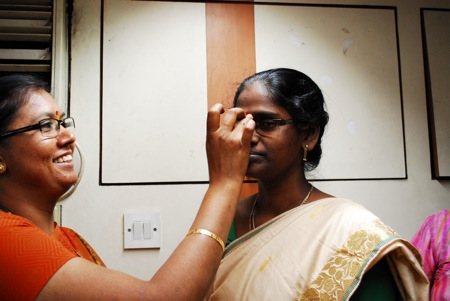 After the photographs had been taken and everyone had had a laddu and a laugh, they settled back to work and once again ran the show with the greatest of ease, keeping the deliveries straight, recording confirmations, archiving documents, liaising with clients via email, and keeping our little ship sailing smooth in several other ways, which you will no doubt hear about in the coming weeks and months.
For now, bananas and blessings from all of us at Mirakle!