24/09/10
Checking in with the Andheri Branch
I have been spending sometime in Andheri office lately. With Vodafone placing the heat of  action on Churchgate Branch, it is easy to forget about the good work that silently goes on  here.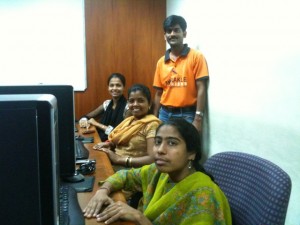 Andheri office is managed by Sameer.  The great captain of this ship. His confident and cool attitude towards getting things done really heightens this branch's calm efficiency. With a lot of the focus shifted to Vodafone, Andheri has had to manage with fewer staff. Currently there are 10 boys to cover 40 Pincodes. Yet still there seems to be "no tension".
The load isn't large but there is a lot of ground to cover in Mumbai's surrounding industrial suburbs. These boys travel by train/bus and on foot navigating through the jungle of super-massive technoparks and MIDC Industrial Areas. Not an easy task.
The reason why it works so smoothly is definitely due to Sameer's influence. He has trained Ganesh, Mirakle's strongest delivery agent, to take the lead on planning and organizing who will go with what each day. Once this is done the boys have a look at the map and figure out the route that they will take through all the different stations. At the end of the day once they finish their load they go home from wherever they are instead of coming back to base. Sensible given the distance they travel.
The girls here are also on their toes. Once again encouraged by Sameer, the four of them have come up with some very clever techniques to keep things efficient and well organized. Sometimes I see Geeta take to the board and come up with a better system for recording the information on excel. The others discuss and give their inputs on how to make reporting more practical and faster to look things up.
Because Dhruv isn't around, I am really forced to speak sign language here. When the girls finish their work they sit and teach me 15 new words that I have to learn before tomorrow when they will test me on it.
They are a fun and capable bunch here, but it is noticeable that they under-worked. A lot of idle time is passed during the day that sometimes I wonder if they have become too efficient. A similar feeling was going on in Churchgate before Vodafone took it by storm. I am sure that soon something will come along and challenge Andheri branch to show what it is truly capable of.